MELO JOINS EWING AND BERNARD KING AS THE ONLY KNICKS IN HISTORY TO SCORE 40 PLUS POINTS IN AN ELIMINATION GAME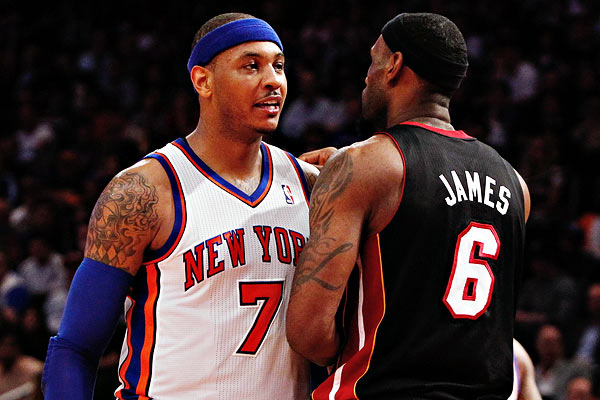 Melo to Lebron " You will see my face three more games... BYOTCH."

Despite minimal offensive contributions from JR, Novak,,,, MELO and Amare ended Ewing's Curse. The Fat lady was warming up to sing..only to shove
a 12 inch hot-dog down her robust throat! A few years ago the Boston Red soxs overcame the Curse of the Bambino when they came back from
0-3 to beat our very own Yankees! When Landry, JR and Novak step up in Miami the Knicks will bring it back to Miracle on 33RD street. Believe it!
NBA teams down 0-3 in best-of-sevens are 0-100 in their attempts to win the series.There is no reason these 2012 Knicks could not be the first. Just believe. A 1000 mile journey begins with one step. We have taken ours, next step ..South Beach on Wednesday! LGK 
TD should watch that tape over and over to get confidence! 
The heat have won only 4 more more games on the road than the knicks.
We bring our A game and we are far from out of this series. In fact it's our turn for a few blowouts if JR , Bibby , Novak and Toney Douglas yes this Toney Douglas from March 2011 http://www.youtube.com/watch?v=NKge3csG0T8 
From Bloomberg,
"Madison Square Garden Rises as Jeremy Lin Fuels Knicks SalesBy Alex Sherman - May 4, 2012 4:37 PM 
Madison Square Garden Co. (MSG), the sports and entertainment company that owns the New York Knicks, rose the most in more than five months after third-quarter profit topped analysts' estimates.
The sports division delivered its most profitable quarter since MSG was spun off from Cablevision Systems Corp. (CVC) two years ago. Ticket and merchandise sales from the National Basketball Association's Knicks, helped by point guard Jeremy Lin's success, fueled a 37 percent increase in sales to $216.1 million. The unit's operating income rose to $25.4 million.
MSG shares increased 3.9 percent to $37.94 at the close in New York. The stock has gained 32 percent this year.
Total third-quarter net income climbed 63 percent to $31.1 million, or 40 cents a share, from $19.1 million, or 25 cents, a year earlier. Analysts had estimated 18 cents on average, according to data compiled by Bloomberg. Sales rose 21 percent to $400.5 million in the period, which ended March 31.
At MSG Media, which includes cable networks, revenue rose 13 percent to $166.2 million. "
My heart loves that we won that game.My head says the phantom Battier foul on Melo with 27 secs  et al. makes $ and sense.A strong NY presence makes money for everyone.The Miami players shut up quick.They know the deal. The players are just pawns on a board.Don't mess with Der $tern's money (DMW$M).The Dolans are pissing cash and the NBA players have been pissed on with their givebacks to the faux crying millionaire owners.No wonder DFish is sueing the Player's Ass's to open their books.How about a word of support for that blind Chinese activist who had to hide from his government's thugs in the U.S. embassy from the NBA?Oh yeah we're more concerned with bouncing checks than bouncing heads off brick walls.A backchannel word from $tern might have helped.$leep easy David.
 @Tman  Stern would sooner bail out Marbury from a Chinese prison, if he could assure that doing so would sell NBA League Passes; but to stick his neck out for a Chinese political dissident who dares to attack authoritarian rule would, in Stern's world, be a bad precedent and a sin against Lord David's 1st Commandment--"Thou shalt have no other God before me and my money."       
 @Post_up_Prince Lin will not play tomorrow.Dolan has too much respect for his financial bottom line.If Linightning could strike again next season the D'Olan$ might achieve financial Nirvana.A gimpy Lin might mess with that possibility.If we win it will have to be on Bibby;s and  TD's back.U have to love an Underdog.