DX EXPRESS PREDICTS THE KNICKS TO SELECT PG SCOTT MACHADO WITH THE 48TH PICK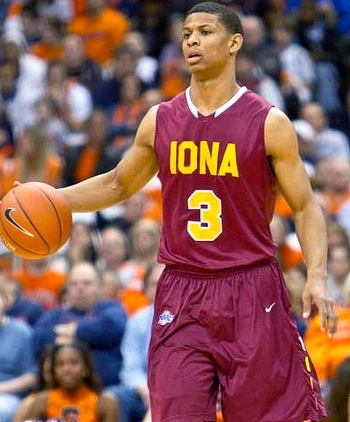 How many of you knew the Knick have pick number 48 in this years draft??? I for one overlooked it. However, here is DX Express breakdown of the local point guard from Iona. From DX Express:

After finishing second in the nation in assists per game in 2010-2011, Iona's Scott Machado still entered his senior season as a player under the national radar. Through only seven games this season, however, Machado has changed that in a big way, catching the attention of NBA scouts with some big outings against the likes of Purdue, Maryland and St. Joe's.

Machado spent the summer representing Brazil at the World University Games, and has entered this season with an improved conditioning level and leaner physique, giving him a quicker burst with the ball in hands, and the ability run Iona's up-tempo offense for over 36 minutes per game so far this season.
Standing 6'1" with a strong, sturdily built frame, Machado isn't a top notch athlete at the point guard position by NBA standards, but he does appear to have the physical tools to be able to compete on both ends of the floor as long as he maintains his conditioning level.

On the offensive end, Machado does much of his damage in transition, leading Iona's high-octane attack and showing excellent court vision leading the break with the ability to thread the needle to a teammate running the floor or find an open shooter at the 3-point line. He has a great command of the ball and moves very fluidly and confidently with the dribble with a nice top speed, while also having a knack for making difficult passes look easy.

In the half-court, Machado is less dynamic, but is still very effective thanks to the extra burst he has this season, which enables him to get into the paint more frequently off the bounce. He shows excellent passing instincts when attacking the basket, whether it be dump-offs to cutters for layups or kick-outs to open shooters. His lack of size and vertical explosiveness hurts him an a finisher, however, and would likely be a bigger issue in the NBA with the longer, more athletic players he'd face once he entered the paint.

Machado has also shot the ball much better this season, albeit in a very small sample size, improving his percentages on 2-pointers, 3-pointers, and from the free throw. His solid early season 39% from behind the 3-point arc will bode well for him if he can sustain it for the remainder of the season. He certainly shoots the ball like he thinks he's a shooter, confidently spotting up and pulling up from well behind the NBA 3-point line on occasion without any hesitation. He has a decent stroke and fluidly shoots the ball off the dribble, but he could probably stand to be a bit more selective with when to fire away from deep.

Defensively is where scouts will likely have their biggest questions marks with Machado. Iona mixes up its defenses quite a bit, with some pressing and some zone, so Machado hasn't had to play as much half-court man-to-man. In what we could see, however, he looks like he has some work to do to defend point guards at the NBA level. His lateral quickness looks mediocre, he's a bit on the smaller side, and he's been beaten off the dribble badly on a few occasions and also has done a poor job fighting through screens. Some of this could be correctable and some could be a result of the system he's in, but this will likely be an area that NBA teams will want to get a better gauge of as they assess his potential at the next level.



 
The NBA Draft class of 2012 has been called one of the deepest in recent memory, but count New Orleans Hornets coach Monty Williams among those who aren't buying that notion.
"I don't see this deep draft everybody is talking about, " Williams told the Times-Picayune. "I think there are a few players at the top that are really good that can be good players. But I don't see any Carmelos or LeBrons. "
The 2012 NBA Draft class is considered one of the best in recent memory, but Hornets coach Monty Williams said he's not all that impressed.
Kentucky's Anthony Davis is the no-doubt top pick. After Davis, there's no real consensus who'll be next. Kansas' Thomas Robinson, Connecticut's Andre Drummond, Kentucky's Michael Kidd-Gilchrist and North Carolina's Harrison Barnes have all been mentioned as potential No. 2s.
The Hornets have two lottery picks and a 13.7 percent chance of landing the top pick. The Bobcats have the best chance to win the to pick, at 25 percent. The draft lottery will be held on Wednesday, May 30.
Williams also said that after the lottery selections, finding difference-making talent will be difficult.
"I don't think you're going to find a (Manu) Ginobili at 52, " Williams said, per the Times-Picayune. "The last few weeks I've had a chance to look at all these young guys on tape, and I'm not jaded by the hoopla as everybody else is. I think there are good players, but I don't see this deep draft. "
Read more: http://aol.sportingnews.com/nba/story/2012-05-21/nba-draft-2012-mock-draft-anthony-davis-thomas-robinson-harrison-barnes-hornets#ixzz1vb559i
Obviously Monty hasn't spoken to you Peace.
the truth is Steven the preacher Smith is a marginal sportscaster who would be screaming from a baptist pulpit shaking his parishioners down for car lease money if he hadn't discovered the world of gullible sports-speak.He should try getting through a sentence without a mistake or a squawk.Try talking with pebbles in the mouth, it worked for a few others with speech impediments.
As for Lin, you miss the point.Whether he can play or not he does something no Knick, or Steven A. can do.He makes money, big money for the Dolans.All the seats are sold, tv contracts signed, and here comes a Lotto ticket called Lin.Grunwald's job is to lower total salary enough so Lin is signed and the cap is not exceeded horribly.I suggest a phone call to DWalsh.As for guys like Lillard and Machado, do you really think Melo or Amare care about what rookie comes in?They know who they want and need to enhance their games.It ain't a rookie.There are about 4 impact guys coming out of college.None are guards.Keep pissin' in the wind if it makes you happy.We need cap space, lots of it.I know your answer, trade Fields.You don't get better by getting dumber, see S.A.Boston, etc.But even Fields salary is tiny compared to the salary committed to 3 guys who still haven't proved they can play together.Is Zeke running this mess yet? Sure looks like it.
Berman, NY Post (Strangely says article is not available as a  webpage)
"Montgomery (Lin's agent) must create the impression the Knicks are not locks to retain Lin to spur teams to present an offer sheet. A source confirmed Toronto, which has a large Chinese population, will be one suitor.
The Knicks ultimately control Lin's destiny because they cannot be outbid. And if the Players Association wins its arbitration hearing and restores Lin's early Bird rights, it is a virtual certainty the Knicks will match any offer because the Bird exception means teams can exceed the salary cap to re-sign players.
That would allow the Knicks to keep their $5 million mid-level exception to sign a solid, veteran point guard from a list that starts with Steve Nash but also includes Jameer Nelson, Andre Miller, Ramon Sessions, Lou Williams and Raymond Felton.
A source said the arbitration hearing date will be set this week. If the union loses and the Knicks need their $5M mid-level exception to re-sign Lin, it could get trickier.
Under the CBA, teams under the cap — such as Toronto — can offer Lin the league's average salary of about $5M for the first two years, then jack the third and fourth years to the maximum of $15 million. The club is permitted to do so only if it is far enough below the cap to take in the average wage of Lin's four-year offer. Such a "back-loaded offer'' causes concerns for the Knicks, who by the third year of Lin's contract would be well over the luxury-tax apron of $74 million, costing them a heavy tax and their full mid-level exception as a taxpayer.
However, the financial boon of having Lin as a Knick for the next four years may be too sweet to consider future luxury-tax penalties. The Knicks' merchandising in the U.S. and Asia may go through the roof as owner James Dolan looks to recoup the $850 million he invested into the Garden transformation. Lin's No. 17 jersey was the second-biggest seller in the NBA for the year despite only being available from February on.
On the basketball side, Lin plays the position at which the Knicks are neediest. If they are comfortable his rehab from a torn meniscus finishes well, it will be tough for them not to match, even for their entire $5M mid-level exception.
Read more: http://www.nypost.com/p/sports/knicks/on_guard_jiAzrat7HTOQxDJmIuQ8FP#ixzz1vWRBNFMg
 @Tman Truth is some Bloggas will go to any means (including GenX's favorites Google and YouTube) and use any bombastic hyperbole to make a point. Using those same tools, Steady has not yet come across any prima facie, ex-post facto, hi-road or lo-road evidence of SAS as a baller and shot caller. Let's be steady about this, BSPN has certainly given SAS a platform and perch. Beyond that, steady looking for the SAS bona fides to call a player, any player in the NBA "Garbage". OOps, I forgot he's a New Yorka and we all know how we skroll here as Kings of the F'n Hill.
As to your last rhetorics, IT may be trying to regain control of the Boss Wannabe's inner ear. IT would have opted for CP3.0 over Ty Chandler. G-double (GleNN Grunwald) went big and the DPOY substantiates that move. But TyChan negates IT because they had asked STAT to bulk up for the rigors of the pivot with J Jordan and JJeff as serviceable BUBs (Back-up Big men). Well we all know what happened with that plan. Stat lost his brother and then the weight. Then D'Amphony lost his job in a case of Karma proving to be ABS or, to use a Malcolm Xism, he ate dark meat from "the chicken coming home to roost". Just Bloguin.
Have no fear, IT is near and may be evidenced with a selection of Machado or any 6'1 (read diminutive) PG. This Machado kid is a braziLIaN who finishes with the same tumbling effect. He displays similar/familiar court vision with the same (coachable) knack of leaving his feet to make a pass. All bloggas know that once you leave your feet, you're a deflection away from watching a layup/dunk sprint to your basket. Time will Tell T-man.
Regarding your point about the rookies' fate in Mecca, you could have added Woody to the list. Game knows game and you have already made that case in these here parts. Still, Steady does not support this categorical disdain for rookies as expressed by our new X-checker. What if they used the same 'tude with Shump the wunderkind? Who knew? IT surely did (and credited to Walsh). With that said, Steady ain't stupid. The PG in Mecca needs to command the respect of the Big Four (Woody and his 3 Stars). As an extension of the coach and COP (Controller of Play/ers) to distribute the rock steadily and keep the other players involved (an anti ISO type). Though it took some time, Ray Felton got to develop the chemistry with Stat and he was having MVP chants and numbers. With daggers coming from Melomatic, Novak and JR Smith teamed up with two of the best PR guys in the league, you can see where IT would be right to get the right PG in Mecca.
The triangle may not have come a ring-a-LINg-ding, but the triangle offense will allow Woody to apply the Second Sports Axiom (1st axiom is: You play to win the game)--You play your best players to the greatest extent possible. If Steady was to give a 3rd axiom, the culprIT shall sIT would come up. How do ya'll like them apples?
Steady as a Woody Wood Pecker pecks on wood.
NYKFL
" As for guys like Lillard and Machado, do you really think Melo or Amare care about what rookie comes in?They know who they want and need to enhance their games.It ain't a rookie."
Funny that KG, Pierce and Ray Allen had the same thoughts about Rondo. How'd that turn out? 
 @Steady It will be interesting to see if Woodrow is his own man.Dropping Glass was not a great sign, we'll see if Woody has the last laugh.It will be tough with Melo holding all the aces.Then there's IT waiting in the wings for the right moment.Hopefully he's learned  more than just patience.But in his secret heart of hearts here's his message to the long suffering NY huddled masses.
 @Peaceman Lightning strikes where it wants to.Remember Rondo wasn't shyte @ Kentucky.The pro game is different.It helps to be a physical freak, check Rondo's wing span and of course, you have to shake the dog to find out what kind of heart he has.By that rule alone the draft is 50% crap shoot.Have fun and keep buying those Lotto tickets.
 @Steady  @Peaceman True the Glass issue isn't  shard worthy but a Glass splinter is still an annoyance and may also be an indicator of crippling pain to come.Woody doesn't appear to be his own man, but has earned the right to prove this observer wrong.His playoff record in ATL is less than inspirational also.Has he earned a chance? Yes, a one year make good contract.One year will be a great motivating factor.As for Mr Phelps, liked him better on tv in days of old, crappy movie.Making deals with dictators, tyrants and murderers because they like to watch b-ball in their off time from depredations seems to be an NBA specialty.Maybe Stern can take his talents to our Sec O State and save that ailing Paki MD who is more of an American hero than the same Neville Chamberlain of International Roundball.
 @Tman  @Peaceman Torn between two lovers T-man? Feeling like a shrewd? Noone ever said that breaking up is an easy thing to do unless you got enablers changing the rules. Heads we win.
Steady reads the Glass break-up differently. Whether IT was in the suggestion/request, the smart money is always: "People do business with people they like and trust". Why would Woody work with a warrantless wise-ass? IT came out clearly that the Glass was stained and clear windows shed more light and heat (as in Dolan Dollars). Think about IT again T-man. Woodrow got Heads this time and Glass got tails.
Mr. Phelps is the one you should be addressing for that disappearing dissident's brother (who just reappeared BTW). The real heavy lift will be to extricate the aiding and abiding doctor who collected on the bounty. Once again, another mission for Mr. Phelps.  If ITs collusion David would disavow knowledge of all things including low-balling to turn the CBA into the NBDL. We know what's good.
Just Bloguin
Steady walking on broken Glass everywhere.
NYKFL
 @Peaceman  @Steady That's just fantasy basketball.CP3 is now in a huge market on a young up and coming team.Lebron, Shaq, Jabbar were all seeking major cities when they fled their small town beginnings.I think there is more of a chance of Dwight going there for ie The Grifinator and Mr. Potential in the middle than CP coming here.That said I see you also left out Stat in your maybe.As a NY fan with some history I see things a little differently than just the business end.While I respect Stat for the great season he initially gave us, I despise the deal.Love the guys heart but he was damaged goods so why a 5 year contract?There is a lot to be said to listening to older and wiser heads and not just going for the glitz.I understand D'Antoni, Stat and NY's desperation to maintain a showcase team, but just as our business markets have eroded and virtually collapsed because of short term profiteering rather than long term investment, Our team building "Stategy" has been winging it rather than Knick Nation building.Sure it's a business, but its not supposed to be a fly by the seat of your pants business.The Knicks are in a tough spot.They have Stat who is virtually untradeable, unless we pay a large part of his salary, Melo who has never met a shot he won't take and a supporting cast we can't afford without Stern's collusion.I believe we will get it as a favor to the Union head who is under fire and the fact a strong team in NYC helps us globally.Lin in NY and a contending team makes everyone money.So, is CP3 the answer to chemistry up front?Maybe, but we aren't getting him.I predict Steve Nash as the answer to the Gordian Knot.BD as an answer was a joke.We might consider bringing John Stockton back but he is committed to JSlaon if he shows in Charlotte.Just jokin guys.No, it's Nash r chaos.Stern knows this and he will do whatever to make a buck.Hey David, see what you can do about that blind Chinese dissident's brother disappearing!I could respect that.LGK from a boo-tiful afternoon in the park.