WITH THE 17TH PICK OF THE NBA'S 2011 DRAFT THE NEW YORK KNICKS SELECT....


LUCAS NOGUEIRA

H: 7' 0"
W: 225 lbs
Bday:07/26/1992
(18 Years Old)
Current:C
NBA: C
Possible:C
Round: 1 Pick: 22 in2011 Mock Draft
Rank 23 inTop 100 Prospects
Rank 4 inInternational '92

Overview:An extremely young center who has started to realize the potential that made him a lottery pick. Really tall, really long, and still very raw. Has an incredible frame that will put on as much weight as needed. Moves extremely well for a center, and has impressive leaping ability. Very agile and coordinated. Has great hands for a player his size. . Doesn't have a lot of post moves, but scores by working off the ball and going at the rim aggressively. Doesn't show much of a jumper, but won't ever be asked to play off the block. Rebounds the ball extremely well on both ends. Has become more adept as a help side defender, but still needs some experience to reach his potential defensively. Has a reputation for not always bringing great energy to the floor.
Offense:A developing offensive center who can get by on effort, athleticism, and vastly improved awareness at this point. Gets most of his offensive from post ups, off of cuts, and from offensive rebounds. Will make some plays running the pick and roll as well. Catches everything thrown to him around the rim. Doesn't show much of a jump shot. Establishes deep position in the post thanks to his excellent frame. Pretty effective over both shoulders in the post. Developing a nice left hand. Shows much better touch than he did early in his career. Needs to improve his footwork and not settle for tough shots when he's unable to get deep enough inside. Not bad at putting the ball on the floor once or twice. Extremely nimble and agile. Will pull off some devastating moves at times. Not very turnover prone all things considered. Great offensive rebounder. Length and agility make him a force here. Very good at moving to the open spot by the rim and catching alley oop passes for easy buckets. Gets a lot of dunks by virtue of his teammates. Sets solid screens, and rolls to the rim looking to finish. Becoming an effective offensive player, but is still only scratching the surface of what he can be.

Defense:A difference maker on the defensive end due to his ability to alter shots in the paint. Has the lateral quickness and leaping ability to be a very good shot blocker, but has the potential to be great. Will step out and hedge the pick and roll when he has to. Length and agility allows him to contest everything. A bit foul prone around the rim, but that's to be expected from a center his age. Improving there at a rapid pace. Displays outstanding rebounding ability, and can go outside of his area to clean the glass. Has the potential to be a force as he continues to gain experience. Needs to learn to go straight up and develop the anticipation and awareness to maximize his incredible physical assets. Understanding of team defensive concepts is not very developed at this point. Lives off his instincts a little too much. Still very young here.

Ok. Fooled you. This is actually Andrew Bynum's write up at the same agehttp://www.draftexpress.com/profile/Andrew-Bynum-428/
However, this kid may have the same potential as here is his REAL profile from DX Express:

Brazilian big man Lucas Nogueira had plenty of NBA draft buzz coming into the 2011 Nike Summit after impressing many who saw him last summer at the U-18 FIBA Americas tournament in San Antonio, where he led the tournament in rebounds, blocks, and field goal percentage. He played less than 13 minutes during the game at the Hoop Summit, second least on the team, but he did score 4 points, grabbed 6 rebounds, and blocked a shot, and gave glimpses of why he is such an intriguing prospect.

Lucas's appeal starts with his incredible physical tools, as a 7-footer with a freakishly long 7'6" wingspan, and excellent mobility for a player his size. At this stage, his physical talents manifest themselves mainly in some jaw-dropping blocked shots, rebounds, and dunks from offensive rebounds, cutting to open spaces, and running the floor. His body is still very thin and weak, but that should come in time with the proper work ethic.

Lucas's offensive skill set is still very raw, but he shows glimpses of some promise, especially in his feel for the game, occasionally throwing some very impressive passes. He is still very limited as a scorer and has virtually no post game, but he has decent touch on his shot and is an outstanding finisher around the basket thanks to his physical tools.

Defensively, Lucas has incredible potential, as his size, length and mobility gives him the ability to cover a huge amount of ground and make a major impact as a shot-blocker. His fundamentals are fairly poor at the moment, struggling to step out on the perimeter, biting on pump-fakes and giving up ground too easily in the post, but he's often able to compensate for that with his sheer length and timing. He'll need to get significantly stronger to avoid being backed down in the paint by more physically mature big men, something that might take a few years and will surely involve plenty of hard work.

ANOTHER POSSIBLE OPTION AT # 17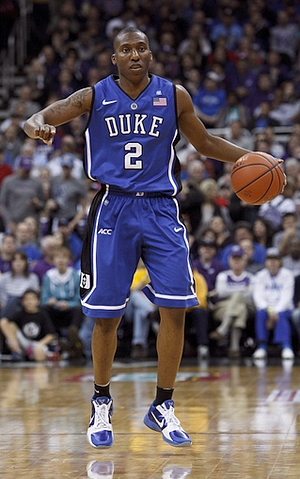 NOLAN SMITH 6'3", Point Guard, Senior, Duke
21.7 points, 4.9 rebounds, 5.2 assists, 3.1 turnovers, 47% FG, 81% FT, 37% 3PT

Developing into one of the most well-rounded guards in college basketball,Nolan Smithhas answered some questions about his NBA future by filling in for Kyrie Irvingon one of the nation's best teams, while leaving some still unanswered. Standing at 6'3", with a solid frame and good length, whether or not teams view Smith as capable of running the point for an extended period of time may determine how high he goes on draft night.

Having played the role of a combo guard in years past, Smith has shown an improved ability to run a team this year. He has edged intothe tail end of the top 25 of NCAA point guard prospects in assists per-40 minutes pace adjusted, although his other point guard metricsstill look underwhelmingsince he can be turnover prone at times. This is a problem largely stemming from the increased offensive burden he's asked to carry in the absence of Irving, a role which will likely decrease in the NBA.

As a passer, Smith does a good job of probing from the perimeter, recognizing cutters nicely, as well as finding spot-up shooters. While not great at getting into the lane, Smith does a good job of keeping his head up and spotting the open man when the defense rotates.

As mentioned, Smith has been asked to shoulder a heavier load in Duke's offense than in years past, and his diverse game has largely allowed him to succeed in this role, ranking 5th in scoring(per-40p) among NCAA players in our top 100 prospect rankings, in the 7th most efficient offense in college basketball.

Despite not having a tremendous first step, Smith does a good job of getting into the lane at the collegiate level. He has the ability to go either left or right in isolation sets, and does a good job of using hesitation and a change of direction to create space, showing great craftiness with the ball. Smith's likely an average athlete by NBA standards, limitations that show up a bit when finishing at the rim. He compensates by using his off hand well to shield defenders and showing good body control, with the ability to hit runners and floaters with some regularity. He has also done a better job of drawing contact and getting to the line than in years past, generally becoming a more effective scorer inside the arc this season.

As a shooter, Smith has shown improvement on catch and shoot opportunities, an area he was already strong at, and this is likely his offensive skill most ready to translate to the NBA. He has also been more effective on midrange shots, although he can be inconsistent with his shot overall. Still not picture perfect in form and not getting a ton of elevation, Smith may have more trouble getting his shot off when making the jump to NBA caliber defenders, although his shooting motion is short, creating a fairly quick release.

One area where he has shown considerable improvement is off pick and roll play, showing a little more ability to make shots coming off the pick and becoming more efficient on his midrange and pull-up jump shots. His timing and craftiness helps him quite a bit here, but continuing to make progress scoring off the pick and roll would help him facilitate the offense more, as he does show improving court vision as a passer in these sets.

Smith has good size to defend the point guard position in the NBA and has strong defensive fundamentals, while maintaining consistent effort. He does a good job of moving his feet laterally to close down driving lanes and closes out well on shooters, although he could still stand to improve fighting through the pick and roll. He also does a good job denying his man the ball when playing off the ball, but if asked to defend the shooting guard position with regularity he would be at a disadvantage in some situations.

BTW Charles Barkley claimed this kid was the Best player in college Basketball http://www.youtube.com/watch?v=NiWk56MzXIg

These Two are worth a look and have a good chance of being there at # 17. However, we'll look at 2 more in another thread.



We need to get David Lee back or trade to get Kevin Love maybe Verajao get rip hamilton or maybe bynum or Deron Williams or Steve nash
D
Both teams shot below 40 percent, with Dallas bottoming out at its postseason low 37.3 percent. Last night, the Big D moniker applied to the Heat D.
"Both teams have committed to that side of the court," Miami coach Erik Spoelstra said. "That's our identity. Sometimes we have to win when it's not pretty."
We got no D
Go after the best player available and trade him for what you need.There's a sucker born every minute, look at the position some of these owners have backed themselves into financially, forget about stoopid contracts.Someone will bail you out.This is your classic throwaway year, hopefully Mike is thrown away, yeah right, he's worth 24 Mil.Sure he'll win a few games, but even dumbassdolan has to see the need for defense with Miami Rising.The NBA is fighting their players to get a 50/50 split, shows how smart they are.Luckuily World wide inflation has them valued at 4 Billion.Cry me a river David about being a civil rights attorney.If we got better defensively this year and shared the ball on O I'd be happier than trading known quantities for a draft choice.LGK?
Statesman is so dumb, he sat on the TV to watch the couch and
so retarded he got stabbed in a shootout.
Peace,
I would like to see the Knicks package the pick w/ JJ and trade for 3 second round draft choices. A year ago you thought that the Knicks starting 5 second rounders was a great idea. I am sure that you would like it even more to have a starting 5 of Melo, Stat, & 3 second rounders. I support Peaceman & his logic
Peace & Blessings
Nice read, but I don't think a young center is the way to go. The Knicks need a center who can come in NOW with big minutes/rebounds/shot blocking. I would go with a PG like Nolan Smith from a good program like Duke. He can learn under Billups and give the team 10-15minutes per game,or more if he learns fast.
Remember the Knicks bought the rights to Jermone Jordan last draft and there has been talk of bringing him into camp to see what he has learn from Euro-ball last year.
....BTW, even if the Knicks were to land Smith, Barkley would find a way to hate the new Knick too.
@Statesman No matter how you roll it States, it will be Billups, Melo, Stat and second rounders! Fields is one. We need one more.
Remember 3 months ago you thought Bynum was going to Denver and Melo would be Kobe's backup. Now perhaps you may suggest that OKC will trade Durant for Kobe straight up. So much for your LA
( lower Alabama) logic
. Hehehehehehehehehehe
@dltknicks I'm not sure DLT. This guy is 18 years old and a true 7 footer. That was "Bynum " and" Nene "status" not so long ago. With Vets like Chauncey and Melo in his Ear, this kid could be a special big at 18 like no other. The worst is he could "foul" too frequently. Not a big Problem in this NBA that is void of true 7 footers. This size and raw talent could use Turiaf and company to fill in the minutes he's not in. Jerome Jordan will be GRAVY next to this guy! LGK
Statesman....don't worry about him "He comes from a long line of real estate people -- they're a vacant lot."
@Peaceman Just not sure, no one can be sure until we understand his "heart and drive", Remember the "size and talent" were also labels many put on A.Randolph around this time last year. Somehow with this 'Antoni system we got nothing out of him. I think we need a vet to help Amar'e on the boards with an N.B.A. ready body. If we get a good vet (like Dalembert as rumored today) this kid could be a good pick. BUT, we still need to upgrade our PG or back-up PG next year.